7 Home Design Trends For 2023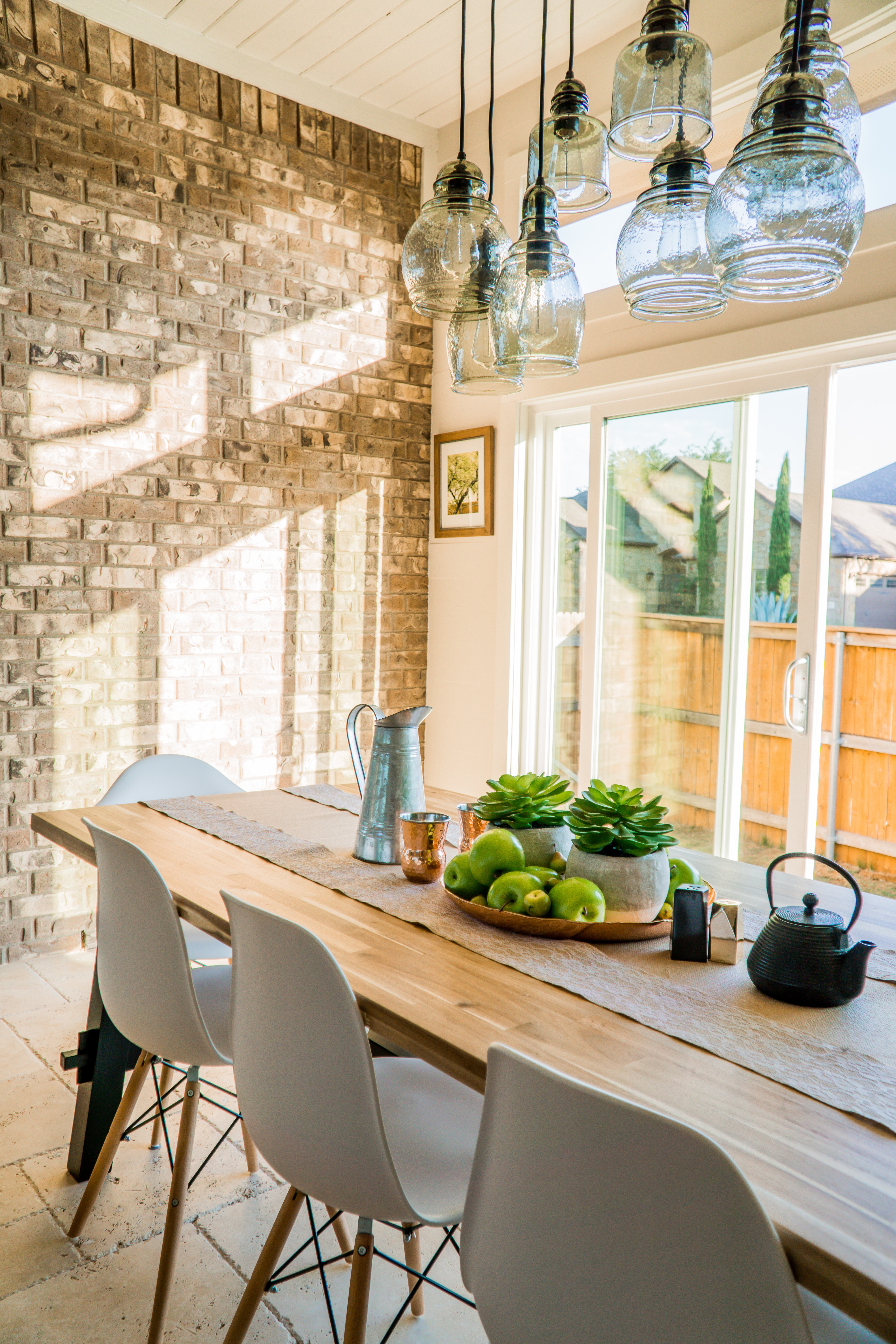 7 Home Design Trends For 2023
November 2022 in
Design Inspiration
7 Home design trends to watch out for in 2023.
When it comes to home décor, no one wants their home to look outdated, and by knowing the top interior design trends, you can make sure that your home is always on-trend.
2023 is looking to be a year of significant changes in the world of interior design. Top designers are predicting bold colours and patterns will make a return as people look to inject some personality into their homes. Ditto with textured walls and floors as people seek ways to add visual interest to their spaces. And finally, sustainable and eco-friendly materials will continue to gain popularity as people look for ways to reduce their environmental impact.
From chrome accents and nature inspired colour palettes, here are our top interior design trends set to shape the year ahead.
Workplaces with flair
Thanks in no small part to the pandemic, over the last few years home workplaces have been dramatically redefined. No longer confined to a desk on a landing or a corner of the guest bedroom, the home office is now a key feature of many home designs as home owners seek increasingly individualised elements all crafted to make working from home more comfortable and productive. Expect to see even greater demand for home office designs, encompassing everything from bespoke furniture to the latest technology, that cater to people's precise needs. 
Let there be more natural light!
The more we discover about what helps us to function more effectively, the more we can expect to see this flow through to interior designs. Nowhere is this more evident than the push to incorporate natural light into the home, and it's an aspect that is assuming more and more prominence in current home design, with a renewed focus on maximising natural light with big, bare windows, whites, and reflective surfaces. And why not? Studies show that natural light can improve our sleep patterns, focus, and mood. Plus, it helps us produce vitamin D!
But when natural light does need a little supplementing, the biggest challenge will be how to create ambient light while not adding excessive heat and using energy efficiently. Alongside a  push towards the functional over aesthetic, expect to see a shift toward simpler, ascetic light fixtures, with warm coloured, dimmed lights, that create a more intimate feel.
Say yes to curves.
Arcs and rounded shapes have been making their way into interiors for a while now and curvilinear shapes will continue to dominate spaces in 2023. The increasing popularity of rounded, undulating furniture and curved silhouettes is already evident in crescent sofas, tulip and egg chairs and circular rugs. Expect this trend to intensify even further in the coming year and say hello to oblong mirrors, architectural details, and mushroom lighting. Cabinets, credenzas, and nightstands also have a curvier outlook for the future. 
Colours inspired by nature.
Our desire for more sustainable and environmentally responsible design shows no sign of abating. And this is also reflected in our choice of interior colour palettes. Tastes are moving away from shades that feel too artificial towards hues that gentler and easier on the eye. As a result, people are opting for colour palettes that flow seamlessly between a home's indoor and outer surroundings.
Interior design colour trends for 2023 are tranquil, without a doubt. Expect to see calming greens and blues like Verdigris and turquoise making their way into interiors especially in areas like studies, home offices, and meditation rooms.
Wellness
2023 will also see a continued emphasis on interior design that focuses on wellness, especially when it comes to home layout. Long enshrined in many eastern cultures, the influence of Feng shui, wabi-sabi, ikigai, and japandi aesthetics are increasingly impacting interior design as we recognise the benefits of free-flowing movement through the home for creating a positive atmosphere.
This is also manifest in the growing demand for sustainable, recycled, and ethically produced fittings and fixtures. As a result, home interiors are starting to look and feel quite different from those of the past, with a gravitation towards green materials and organic surfaces in upcoming designs, from residential to commercial. Plaster and limewash walls are becoming increasingly popular as are textured walls and wallpaper and textural materials like limestone and terracotta.
Also expect to see more people bring plants into their homes, including lush hanging vines, and even edible herbs and flowers for the kitchen as a key part of the top interior design trends for 2023.
Statement sofas
If international design shows are anything to go by, in 2023 statement sofas are set to assume their position as the focal point of a living room, with cult designs like the De Sede Terrazza, De Sede Non-Stop Snake, and the Mario Bellini Camaleonda sitting at the top of the pecking order.
Upholstery will also be the subject of extra attention, especially stripes, hand-blocked prints and vintage-inspired and patterns that bring depth and interest as people continue experimenting with bolder and more unique designs. Floral patterns will be trendy, as they can add a touch of nature to any room.
Natural fibres like cotton and linen will continue to be popular for their breathability and durability, but a resurgence in popularity for leather is also predicted thanks to its luxurious feel and ability to add a touch of elegance to any space.
Chrome and mixed metals
It's a similar story with silver metal accents and finishes, as  chrome, white bronze and polished nickel, are all expected to make a comeback, mixed with other textures and colours to really make them stand out. Think stainless steel appliances and matte black hardware, or brass hardware and satin nickel plumbing, for a timeless trend that will never go out of style.
Overall, the top interior design trends are shifting towards more sustainable, personalised, and natural design. This aligns with other global trends and reflects a growing awareness of the need to protect the environment and our health.