Christmas Styling that doesn't break the bank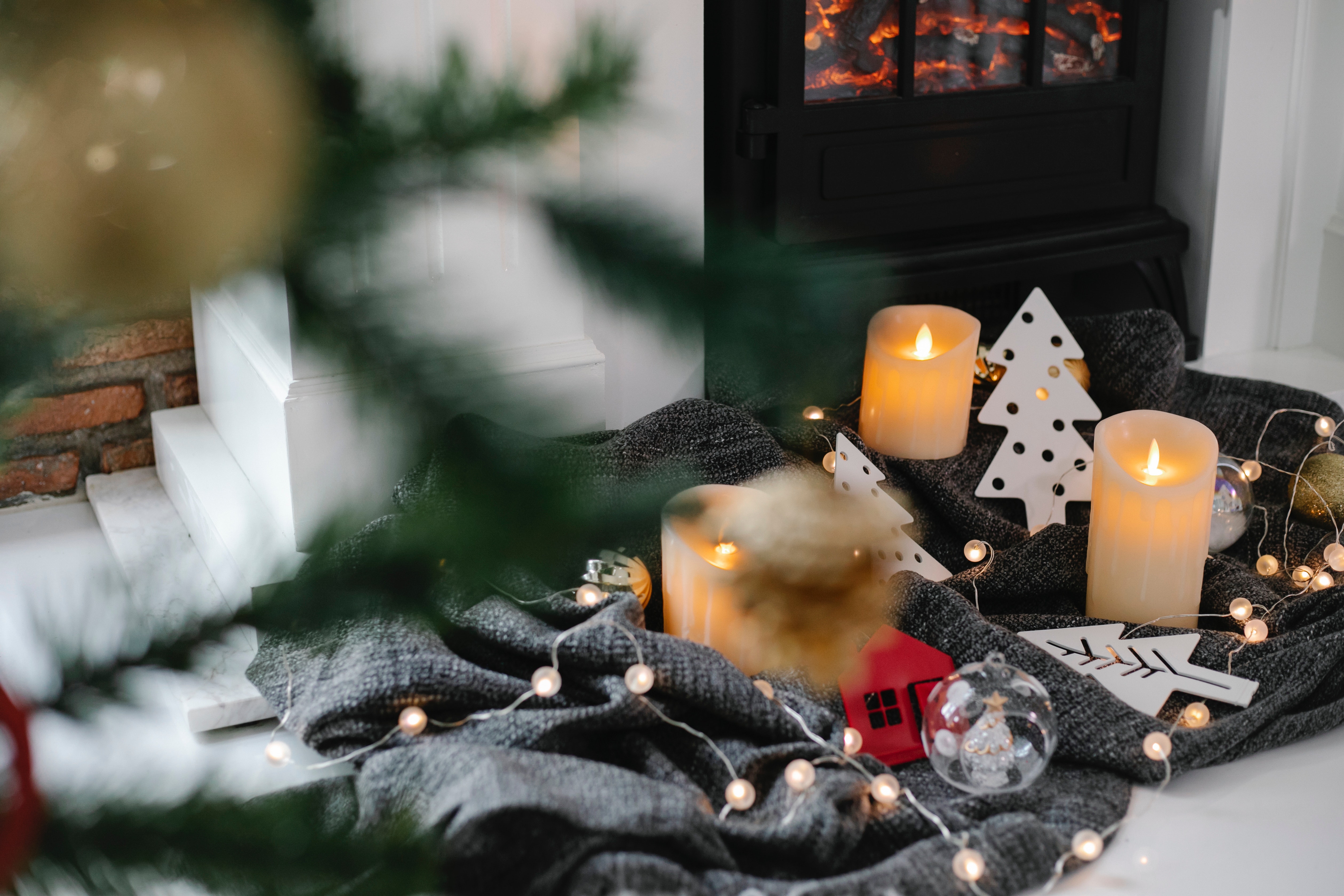 Christmas Styling that doesn't break the bank
December 2021 in
Design Inspiration
Christmas Style that doesn't break the bank!
Of all the holidays, the Festive Season provides the best opportunity to let your creativity and design aesthetic shine. Whether you're obsessed with finding the perfect spot to hang some fairy lights, want to get crafty with your lounge room mantelpiece or pull together some eye-catching table settings, there are so many amazing Christmas decorating ideas that can bring your space to life.
But you don't have to break the bank to make a big impact. Instead, here are twelve suggestions —one for each day of Christmas, guaranteed to transform your home into the perfect Christmas wonderland you've always dreamed of — without having to empty your wallet.
There's no limit to what you can do with a little bit of elbow grease, some crafty finds, and a healthy dose of Christmas spirit.
So what are you waiting for? Let's get decorating!
1.Wrap your front door with ribbon.
Make an entrance! All you need is a reel of ribbon. Simply cross two lengths of ribbon across the door, one smaller strip horizontally across and a full-length vertical piece. To save money on how much ribbon is required – simply measure to the top of the door and discreetly secure the ribbon with drawing pins. The pins will be out of view when the door is closed. It's easy to do and just as easy to remove, once the season is over.
2.Make your own wreath.
For added flourish adding a Christmas inspired floral wreath to your front door is a beautiful touch — and officially heralds in the festive season. But why not make your own? Just start with a wire wreath base, which you can buy from floristry suppliers or craft shops and cut 30 short lengths of floristry wire, about 10cm per piece, using them to wind in flowers, twigs, and branches — whatever takes your fancy, and add some sparkly baubles, tinsel or ribbon for extra bling.
3.Think outside the Christmas Tree Box.
While we traditionally associate Fir Trees with Christmas, there are no rules dictating what type of tree you can use. Fresh or faux, it simply depends on your space, budget and personal style. For a no cost option, why not use a branch from a paddock, an old olive branch from an orchard, or maybe even a small living tree in a pot. Whatever you go with, choose a theme and marry it in with your existing collection of decorations or make your own.
And if you are looking to decorate your tree with something other than tinsel, but don't have the budget to invest in a pre-made garland, try making your own. You can string together anything from popcorn to pinecones. For example, why not give your Christmas a vintage spin by upcycling old vintage lace and crocheted doilies into a unique garland?
4.Get creative with your Christmas table decorations.
There are plenty of ways to add some boom to your dining area without going bust!
A unique way to add impact, why not place a lightweight tree branch in the centre of the table and drape it with natural foliage and a few light decorations, to create a rustic centrepiece. Alternatively, opt for foliage, scattered pinecones, Christmas baubles or twined-together cinnamon sticks for a similar effect.
Another option for elevating your table setting – repurpose your cake stands and stack them on the table to add height and drama. Dress them with leftover baubles and add dried fruit, flowers and candy for a low-cost decorative touch — plus they'll help to add a festive scent to proceedings.
You could also create a a charming festive statement by placing mini trees at each place-setting. Simply take cuttings of branches from a real fir tree and place them in tealight votives. Or, if you have a real tree as your main tree, you can easily snip branches from the back where they won't be missed. Add even more colour and sparkle by dressing the 'trees' with mini baubles, that are otherwise lost on the big tree.
Candles in vintage votive holders, and old candlesticks also add height and a warm glow, while handmade name tags at each place-setting also add a personal touch.
5.Hang an artistic twig bauble display
Who says baubles are only for Christmas trees? Branch out, quite literally, this year with an artistic twig display to add colour and festive decoration to a plain wall in the living room. Coordinate decorations to match your Christmas tree scheme or use a different accent colour to embrace more than one seasonal trend.
This idea works best above a sideboard or shelf, allowing the surface to house the vase containing the twigs – alongside additional paper decorations and foliage. Alternatively you could suspend a branch from an existing picture hook, using twine or a clear thread, temporarily replacing what usually hangs in the space.
6.Give your hall mirror a festive makeover
When decorating on a budget, Christmas cards from friends and family are your best friends. Transform your ordinary hallway mirror into a festive centrepiece by filling the fame with cards. This works especially well with window mirrors. Don't forget to hang a few fairy lights over the mirror for some added glitz.
7.Curate a Christmas display
Make the most of every available surface to style spectacular Christmas displays. Use seasonal fruits to dress side tables, sideboards and even mantelpieces to create beautifully rich displays on a cheap budget. Generous vases filled with citrus fruit or apples also create an easy decor detail that requires minimal cost effort for maximum style.
8.Show off decorative stars
Simple paper decorations, especially large-scale stars can go a long way when it comes to decorating on a budget – even more so if you can craft the stars yourself, using recycled materials. Hang statement stars in your windows to spread some festive cheer.
9.Dress the table with handmade Christmas crackers
This year why not make your own Christmas crackers to save on costs and waste? Simply place a treat inside a cardboard roll, wrap crepe paper or even fabric scraps around it, then tie the ends with ribbon. You could even write your own jokes to tuck inside.
10.Make your own gift-wrapping paper
Likewise, keep the budget down by making your own gift-wrapping paper. Hand printed patterns create beautiful authentic paper to add charm to your gifts. Slice a large potato in half and carefully score a festive motif. Cut away the potato on the outside of the scored section, so the shape is raised. Dip this side into a thin spread of paint (use the underside of a tin lid as a palette) and avoid making it too heavy otherwise it will be blot. Stamp onto a sheet of brown paper, or better still on the reverse of an upcycled sheet of paper. Stamp several times before re-coating with paint and repeat until the paper is covered. Leave to dry.
11.Upcycle food tins
Upcycle simple tin cans and turn them into twinkling lanterns. To create your own, start by peeling the off labels and running cans through the dishwasher for a shiny finish. Next, fill them with water and pop them in the freezer. Once frozen, draw a heart or star on paper and tape the sketch onto each tin. With a hammer and a nail, pierce the tin following the pattern (the ice inside will stop the tin denting).
After thawing tins, wash out them out and add a handle using aluminium wire. Finally, light a nightlight inside and line up two or three in a row for a homemade Christmas decoration with plenty of natural charm.
12.Add a sweet candy cane wreath
For some edible inspiration look no further than candy cane. Spin them into festive lettering, stick them onto Christmas wrapping and tie them to wreaths – who knew the candy cane was so versatile? Even better, they cost next to nothing for large packs.