Inaugural Peppercorn Hill Community Fund distributes grants totalling $22,500 to 15 local community groups!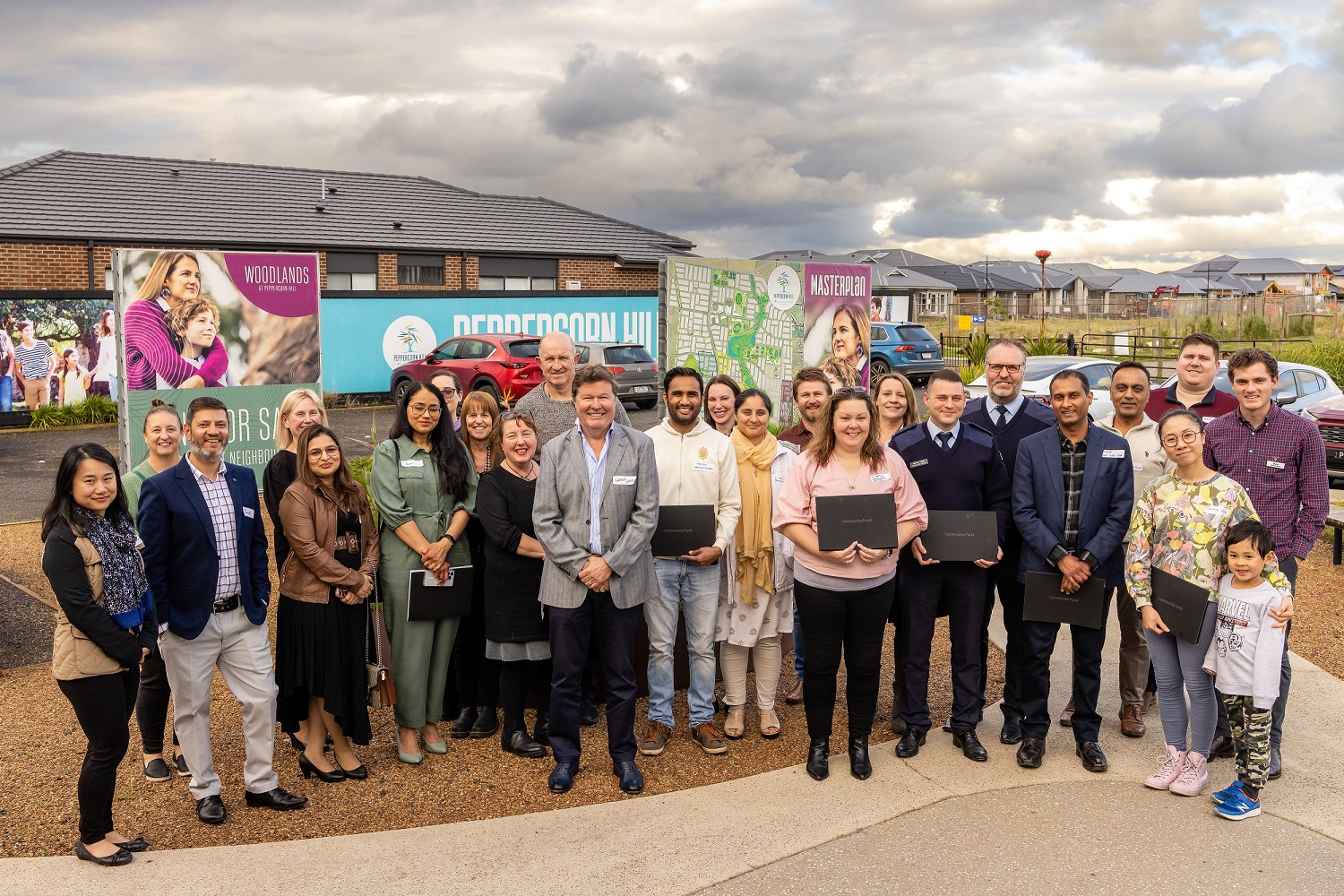 Inaugural Peppercorn Hill Community Fund distributes grants totalling $22,500 to 15 local community groups!
November 2022 in
Events & Local Area
It's been a damp old Spring, but we thought we'd head into Summer with some good news!
On a (very) stormy night on Wednesday, 16 November 2022, the inaugural Peppercorn Hill Community Fund presentation evening took place at the Estate's Sales Centre in Donnybrook, with Dennis Family Group Managing Director, Grant Dennis, on hand to congratulate 15 happy local community and not-for-profit groups on receiving grants totalling $22,500.
In fact Dennis Family Corporation, Peppercorn Hill Estate's developer, has a long history of supporting of not-for-profit organisations. Over the past two decades the company has distributed more than $1 million in grants, providing invaluable financial support to hundreds of local not-for-profit groups and organisations.
Eligibility for grants of up to $1,500 under the Peppercorn Hill Estate Community Fund extended to not-for-profit groups operating in Donnybrook, Woodstock, Wollert and Craigieburn, with a judging panel awarding funds to a variety of organisations.
Numbering amongst this year's successful applicants was the Craigieburn based, not-for-profit Helping Hand Animal Rescue. The organisation's Heidi Still, was thrilled to receive a $1,500 grant in support of the Group's animal rescue work.
"As Helping Hands Animal Rescue is run completely by volunteers and funded solely by donations and fundraising, two of the biggest challenges we face are ensuring that we have enough funding to continue rescuing and rehabilitating injured, orphaned and displaced local wildlife, and raising community awareness about the critical work we do. At any one point in time, we might typically find ourselves looking after upwards of 100 animals! So, I can't thank the Dennis Family Corporation enough for providing us with much needed funds to continue making this possible and ensure that future generations can all enjoy our precious wildlife," she said.
The Craigieburn Cricket Club's Juniors Coordinator, Claudia Cross, was also on hand to accept a $1,500 grant on behalf of the Club. "We're going to use our grant to provide a Club branded shirt and shorts to all our junior coaches as a reward for volunteering their services and time to train and develop all our junior boys and girls. There's 15 of them in total and they each devote at least 8 hours per week helping out."
She added, "For us being a member of the Club is not just about playing cricket. It's also about being part of a community organisation, giving kids (and their families) a chance to forge friendships, build fitness and mental resilience. The coaches are an integral part of this process. The last couple of years, especially, have been quite challenging, with very limited opportunities to raise money for anything. So, this initiative will go a long way towards the Club being able to thank a dedicated group of people who have selflessly continued to show up through good times and bad to support young players."
More details regarding this year's presentations can be found on the Peppercorn Hill website at www.peppercornhill.com.au.
Congratulations to all of the 2022 Peppercorn Hill Community Fund grant recipients:
Bula Golf Club
Calvary AOG
Craigieburn Basketball Association
Craigieburn Cricket Club
Footscape Inc
From Us 2 You
Helping Hands Animal Rescue Inc
Lalor Lions Junior Sporting Club Basketball Uniforms
Rangmanchkaree Multicultural Theatre Group
The Brahma Kumaris
United Minds Community Services
Whittlesea Community Connections - Mernda Community House
Whittlesea Community Garden
Whittlesea Community House
Wollert Fire Brigade