Introducing Woodlands, Peppercorn Hill's newest neighbourhood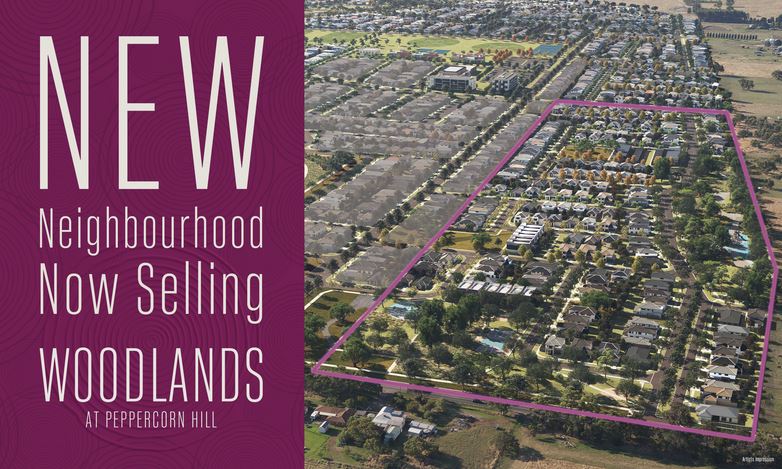 Introducing Woodlands, Peppercorn Hill's newest neighbourhood
June 2022 in
Events & Local Area
Peppercorn Hill's newest neighbourhood is now selling!
Donnybrook is rapidly becoming one of the most sought-after addresses along Melbourne's bucolic northern fringe. The suburb is really starting to come to life with an abundance of new residential and commercial developments underway.
But if you needed any additional incentive to join this growing, thriving, vibrant community, it's hard to go past the recently released Woodlands Precinct right in the heart of Donnybrook's Peppercorn Estate.
Peppercorn Hill's masterplan has been designed especially with growing families in mind, and nowhere better encapsulates this ethos than Woodlands, its newest and most unique neighbourhood.
Featuring an abundance of verdant, landscaped parklands, paths and walking trails that meander through statuesque 300-year-old River Red Gums, over 25% of the precinct is dedicated to open space, with more than 75% of homes located within 50m of a park.
Add in signature street front lot landscaping and fencing, as well as carefully calibrated Design Guidelines established to deliver superior housing design, and Woodlands is poised to offer residents an exclusive haven that seamlessly balances established natural features with the very latest in contemporary living.
An added enticement, owners purchasing and building in one of Woodlands Signature Streets will also enjoy a choice of eight Designer Front Landscape Gardens each valued at over $10,000* – all built and maintained by Woodlands for the first 12 months – at no charge!
Then there's the location!
Direct access to Donnybrook Road will deliver Woodlands' residents with easy access to all of the area's most popular attractions from the impressive Marnong Estate Winery a few kilometres to the west, to the Growling Frog Golf Course to the east, as well as plenty of shopping, schools and medical centres nearby. Commuting to Melbourne's CBD is also a breeze via Donnybrook Railway Station or the Hume Freeway, just 3km away.
Even better, as the community continues to grow, the range of amenities will expand even further, including the new Peppercorn Hill major town centre, featuring a supermarket, neighbourhood community facilities, child-care facilities and a wide choice of eateries and select retail stores. With a further two secondary schools planned for the area, not to mention plenty of sports and recreation grounds, the Precinct's youngest residents are set to have their education catered for.
Don't know what to build? Well, with space key to all elements of Woodlands' design, allotments will offer a range of lot sizes to meet varying budgets, plus a mix of frontages, allowing for a broad range of house designs without compromising on backyard space, making Woodlands perfect for families of any size. But to discover more about Woodlands, visit the Peppercorn Hill Land Sales Office, 1145 Donnybrook Road, Donnybrook, open 7 days from 10am – 5pm or contact Deb Teazis on 0428 026 180 for some expert advice and guidance.
If you're looking for a chance to embrace a lifestyle you've have only ever previously dreamed of – and in a neighbourhood that will definitely be a step above the rest, then Woodlands is definitely worth a further look!