Peppercorn Hill's first proposal - Aaron and Sara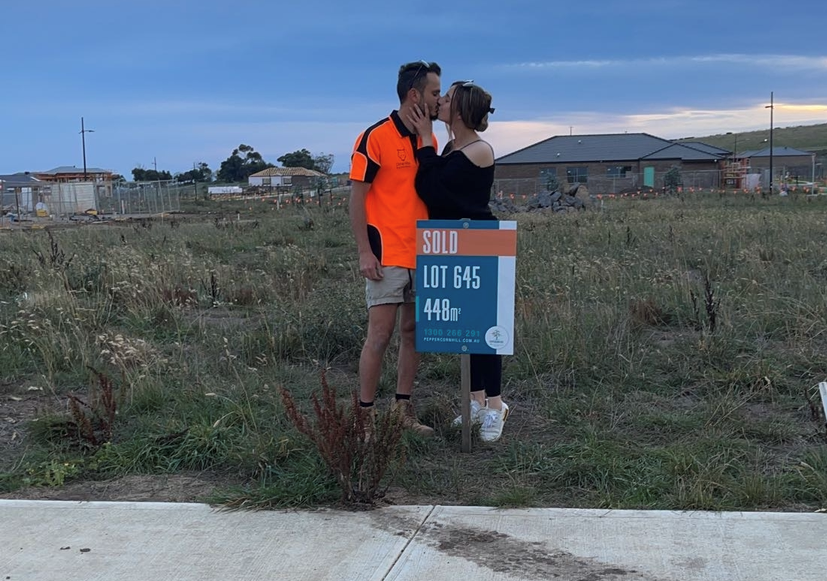 Peppercorn Hill's first proposal - Aaron and Sara
September 2021 in
Meet Your Neighbours
LOVE LOCAL. MEET SARA PERRI AND AARON BARTOLO.
Peppercorn Hill's community is growing by the day, with over 550 lots now sold!
Almost 180 houses are now in the process of being built across Stages 1 – 6 as the Estate starts to take shape. Even more exciting, over the past couple of months the first of Peppercorn Hill's new residents have begun moving into their homes, breathing life into the new thriving, vibrant community.
Sara Perri and her partner, Aaron Bartolo, purchased land in Stage 6 last year. Primary school teaching assistant, Sara, is currently living in Mernda while Aaron, a carpenter, lives in nearby Epping. They're in the process of building their first, and hopefully, forever home at Peppercorn Hill, and they couldn't be more excited about living at the estate and starting their own family there in the next couple of years.
We took this opportunity to chat with Sara to discover what made the couple choose Peppercorn Hill.
There are so many factors to consider when purchasing land and building your own house. What made you choose Peppercorn Hill? 
Well, there's so much to love. But I honestly think the amazingly well-deigned masterplan was the thing that really got us across the line. It's pretty hard to go past all the facilities proposed, lots of open spaces and stunning landscaping, plus a V-Line train station, lots of shops and good schools, all just down the road. Peppercorn Hill was also very affordable, offering really decent sized blocks compared to other estates we visited.
Of course, the other key factor in our decision was the fantastic customer service we received from Matt at the Peppercorn Land Sales Office. In fact, everyone on the Sales Team made us feel like valued customers throughout the entire process and made buying on the estate a no brainer.
The sales process can sometimes be a pretty overwhelming and daunting process. What have been your biggest challenges so far? And how have the Peppercorn Hill Sales Team helped you and supported you along the way?
Being first home buyers, the whole process was entirely new to us and we had no idea where to even begin. Our biggest challenge was actually securing some land as the market was very competitive – and that's where Matt went above and beyond to help us get our hands on a block that would work for us and our budget.
When we first visited Peppercorn Hill, all the stages released to that point were sold out. But Matt saw how disappointed we were and went out of his way to make sure we had an opportunity to buy some land in the next available stage. Literally, within a week, we were able to put down a deposit on our block. But without his commitment and support, none of that would have been possible.
So, we can't recommend the Peppercorn Hill Land Sales Team highly enough, especially for first home buyers, as they take the time to walk you through the entire process and are willing to answer every question with patience and care – even the silly ones! They guided us every step of the way, and even now, long after we've purchased the land, they've continued to offer us support and advice whenever we need it.  
What have you decided you want to build on your new block?
We're building a single-storey, four-bedroom home with two living spaces, which will be perfect right now, but also with plenty of room to accommodate a growing family down the track.
Who is your builder and how did you select them?
Ultimately we went with Orbit Homes as they had just finished building my parents' new home and we both fell in love with our floorplan as soon as we saw it.
Any tips for anyone thinking about building their own home?
Like any big decision, the best advice is to do your homework up front. Invest the time to do your research and work out exactly what you want in terms of amenity, price, location etc. Then find yourself an estate that ticks all your boxes. But most of all, be patient and find time to enjoy the process – you only build your first home once, after all! That said, it all seem a little overwhelming at times. So, it's also important to celebrate all your little wins along the way.
When do you expect to move into your new home? 
We're hoping to move in before Christmas, or sometime in January at the latest – fingers crossed!
What are you most looking forward to about living at Peppercorn Hill?
We're really excited about the masterplan, with everything we could possibly need, right on our doorstep. We're also looking forward to joining and becoming part of a lovely friendly community where we can start our own family.
Would you recommend Peppercorn Hill to your friends and family? And if yes, what would you tell them?
"Definitely. In fact, I've already recommended Peppercorn Hill to my family – and they didn't take much convincing at all to follow in our footsteps! My cousin and her partner have recently bought land just down the road in the estate, as has my Aunty. After visiting the Sales Office, they were both sold, which is another reason why we can't wait to live in Peppercorn Hill, where we'll be living only a few streets away from our family and we'll all be able to enjoy being first home buyers together.
As far as we know you are the first couple to get engaged on the Estate! Tell us about your engagement and Aaron's proposal. Was it romantic? When are you getting married?
Aaron's proposal on our new block was extremely romantic and took me by surprise, with lit candles and rose petals all around – it felt like something out of a movie.
To say that ongoing uncertainly in a time of COVID posed something of a challenge for Aaron when planning everything, is something of an understatement. He was constantly worried that restrictions and lockdowns were going to ruin his plans, which is what actually gave him the idea of proposing in the estate. He wanted the occasion to be a memorable one. So, what better place to propose then Peppercorn Hill where we're building our first home. He knew I would love it and we're really looking forward to one day, explaining to our future children why we will forever hold the estate close to our hearts, because it's the place where we really committed to starting our new life together. I don't think Aaron could have chosen a better spot to ask me to be his, forever, and it just makes us even more excited to be joining the Peppercorn Hill community.
We're planning on getting married hopefully within the next 2 years once we've settled into our new home.