Peppercorn Hill's First Residents Have Arrived - Brad and Bec!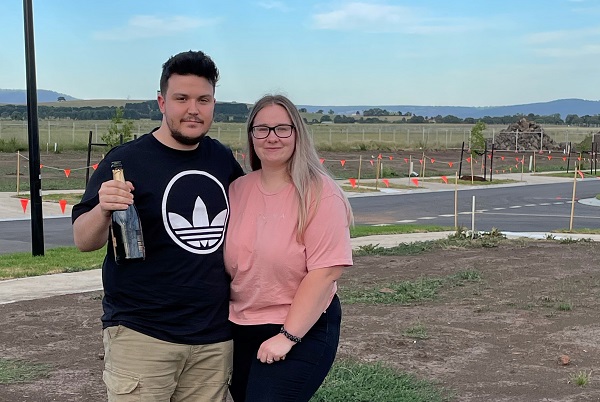 Peppercorn Hill's First Residents Have Arrived - Brad and Bec!
July 2021 in
Meet Your Neighbours
Meet Your Neighbours - Brad and Bec
Winter is well and truly here, and it may be a little chilly, but there is still plenty happening at Peppercorn Hill.
Over 75 houses are now in the process of being built across Stages 1 – 6 as the Estate starts to take shape. Even more exciting, over the past few weeks the first of Peppercorn Hill's new residents have begun moving into their homes, breathing life into the new thriving community.
Amongst them are first-home buyers, Brad (27) who works as a lighting technician, and his partner, Bec (23), an early childhood educator. The couple purchased land at Peppercorn Hill in Stage 6A in August 2020. Construction on their house began in early 2021 and finished in mid-June, and the couple are currently in the process of moving in.
We took this opportunity to chat with Brad to discover what made them choose Peppercorn Hill.
There are so many factors to consider when purchasing land and building your own house. What made you choose Peppercorn Hill? 
"We both originally hail from Whittlesea, a small country town located literally only 20 minutes down the road from Donnybrook. We really wanted to build our 'forever' home, but it was also important to us that we did so somewhere that wasn't too far away from each of our families. Obviously, a big part of Peppercorn Hill's appeal is that it ticks this box. But it certainly wasn't the only factor which drove our decision.
"In fact, we looked at quite a few estates nearby, but we were particularly attracted to Peppercorn Hill and thought it would be a perfect location for us to build a home for our future family in what is clearly going to be a warm, safe and welcoming community, like the one we both grew up in. One of the biggest drawcards is the amazing masterplan; we really love the idea of lots of parklands and heritage buildings close by, not to mention all the fantastic planned amenities like schools and sporting facilities, while still being surrounded by all that rural land, and with such amazing views around the Estate like the Hayes Hill."
The sales process can sometimes be a pretty overwhelming and daunting process. What have been your biggest challenges so far? And how have the Peppercorn Hill Sales Team helped you and supported you along the way? 
"It was a very interesting experience purchasing our first block of land and house during lockdown, as it meant that we were often meeting sale consultants virtually and making many decisions about our house online. But one of the things that made the entire process ran like clockwork was our amazing Sales Consultant, Deb Teazis, and we were so lucky she was there to help guide us and support us through every decision.
"Of course, one of the biggest challenges posed by COVID restrictions and successive lockdowns was the fact that we weren't always able to visit the Estate and look at various blocks of land. Throughout this period, Deb was amazing – and extremely patient, about responding to our many questions, listening to all our requirements, and ultimately helping us to find the perfect block to suit our needs."
When do you expect to move into your new home?
"Imminently! We're currently in the process of moving into our brand-new house right now, and we are beyond excited about all the new challenges ahead of us."
What are you most looking forward to about living at Peppercorn?
"As houses around our block continue to go up and be completed, we can't wait to meet all our new neighbours."
Would you recommend Peppercorn Hill to your friends and family? And if yes, what would you tell them?
"Absolutely 100% would we recommend Peppercorn Hill to our family and friends. We'd be telling them all about the overwhelmingly positive journey we have been on, in building our first home. Plus, we'll also be letting them know about all the amazing features and amenities that Peppercorn Hill will offer including extensive parklands and open spaces, the community centre, plus schools, medical centres and the Donnybrook Train station nearby, not to mention plenty of shops and supermarkets, close by, and, of course, all that the beautiful scenery."