Peppercorn Hill's First Residents Have Arrived - Nathan and Brodie!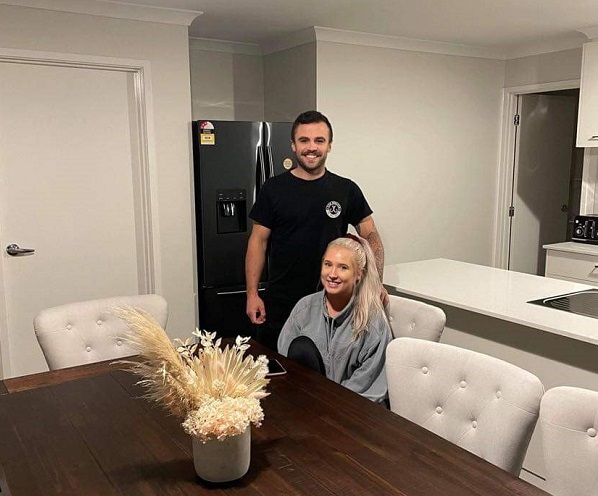 Peppercorn Hill's First Residents Have Arrived - Nathan and Brodie!
July 2021 in
Meet Your Neighbours
Meet Your Neighbours - Nathan and Brodie
Carpenter, Nathan and his partner Brodie, a Court Support Services worker, bought land at Peppercorn Hill in July last year, and have recently moved into their new home.
The first-time homeowners, who are planning to get married in February next year, are amongst the estate's first residents and they are looking forward to starting a family in Peppercorn Hill's rapidly expanding community.
We took this opportunity to chat with Nathan to discover what made them choose Peppercorn Hill.
There are so many factors to consider when purchasing land and building your own house. What made you choose Peppercorn Hill?
"We looked at several land developments in and around Donnybrook, but the Masterplan really put Peppercorn Hill head and shoulders above the competition. Everything has been so well thought out, with all the facilities anyone with a growing family could possibly want from parklands to leisure and recreational facilities, not to mention plenty of great primary and secondary schools, shops and other amenities close by. Plus, there's already a real sense of community, which is really important to us.
"And of course, there's the spectacular setting. From the wetlands and the conservation area along Darebin Creek to the Hayes Hill Reserve, the whole estate will be beautifully landscaped and laid out, with so much open space, meaning Peppercorn Hill really does combine all the benefits of country living with the advantages of town living and amenities close by."
The sales process can sometimes be a pretty overwhelming and daunting process. What have been your biggest challenges so far? And how have the Peppercorn Hill Sales Team helped you and supported you along the way?
"This is the first time we've built a new home and can be a pretty overwhelming experience at times. Our biggest challenges were around 'setting up' our home and the actual house build component –finalising a house design, and then deciding things like what finishes and upgrades to run with, obtaining quotes and fixing costs etc.
"Throughout the process, our Sales Consultant, Deb Teazis, was fantastic. We had plenty of questions, but she was always so patient and supportive, and guided us every step of the way. For us, it certainly demonstrated the importance of good relationships, open communication and a strong sense of trust with everyone involved in the process."
What are you most looking forward to about living at Peppercorn Hill?
"That's easy. We're really excited about finally moving into our very own home, and one which we built! As you'd expect, the moving in process was a little stressful at times, but now we're actually living here, it's great. Next up on our agenda is starting on our garden and getting to know our new neighbours."
Would you recommend Peppercorn Hill to your friends and family? And if yes, what would you tell them?
"Absolutely! Peppercorn Hill is fantastic. We're total converts and have already been recommending the estate to all our family and friends. Not only is it in a great location, the future development plans for both Peppercorn Hill and Donnybrook are also really exiting – especially the train line upgrade. And finally, the service and support provided by Deb and the Peppercorn Hill team have been amazing. The whole process could not have run any more quickly and smoothly and we know how lucky we are."