Smart Technology is changing today's homes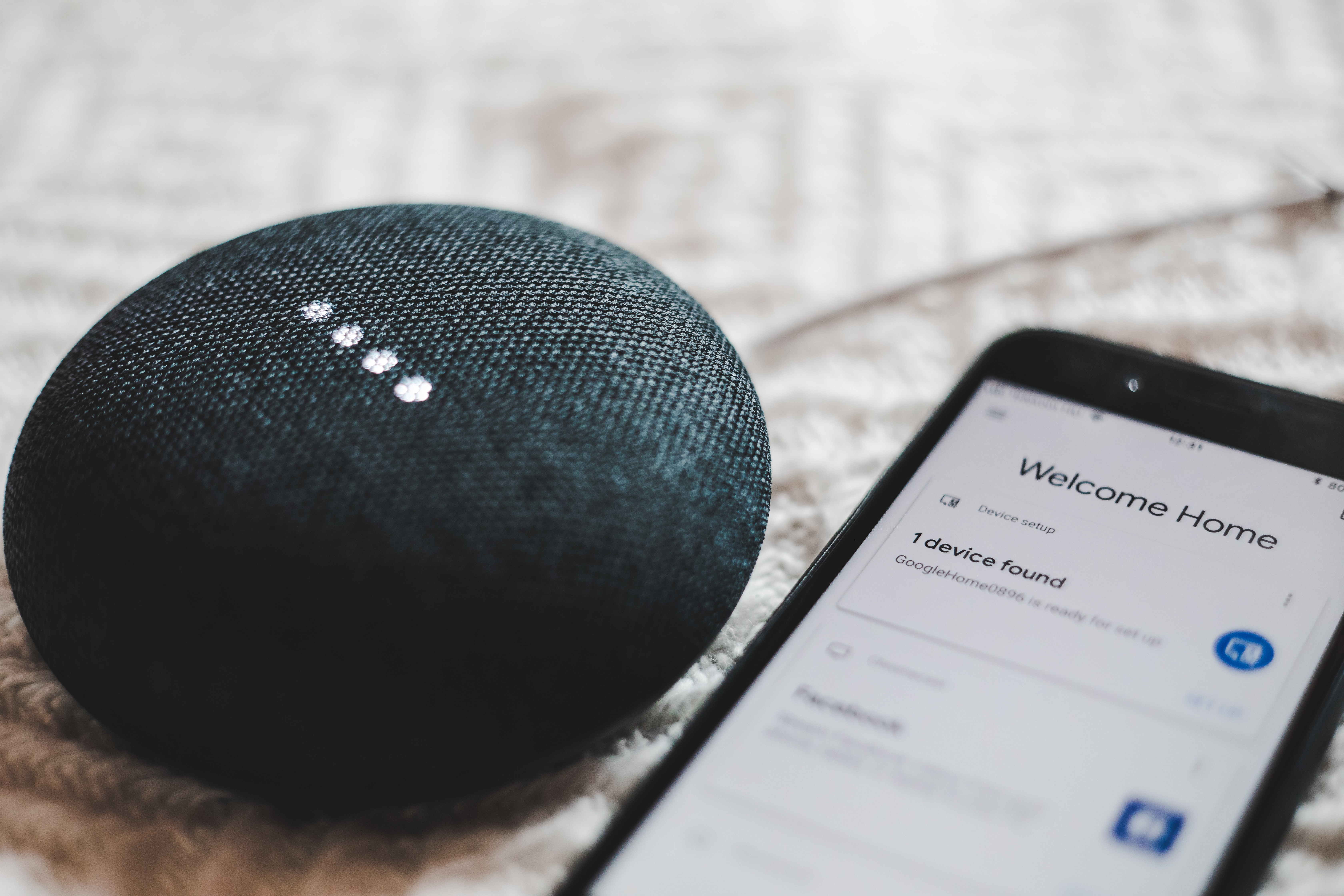 Smart Technology is changing today's homes
April 2022 in
Design Inspiration
How Smart Home Technology is Changing Today's Homes.
When purchasing a home, buyers used to base their decisions in part on how to customise their home based on resale value. In recent years, however, design experts have noticed that homebuyers are no longer building and designing homes with the next owner in mind but on how to simplify and optimise enjoyment and use of their own homes. Nor are smart trends still reserved for the most high-end homes or those who have saved for an upgrade, years down the line — lower installation and equipment costs have meant that smart technology, easily controlled via smartphone, laptop or other mobile device, is now readily and widely accessible to all of us.
The net result? People are actually buying homes today with an eye on the existing smart home tech that's already included. Here are some of the biggest smart home tech trends happening right now.
Integration.
One of the top smart home trends for 2022 is just how fully integrated smart home tech is becoming. In fact it has now almost become something of an expectation versus a luxury and, along with higher expectations, has come connectedness and ease of use.
From a pure integration standpoint, more smart home devices are starting to communicate with one another. For instance multiple rooms in your home can be outfitted with Google Home speakers that can function in a group(s) instead of individual units. Lighting systems for your entire home can now be controlled from mobile devices, touchscreen panels or an automated system and can follow specific routines that you create to turn the lights on or off across the household according to your schedule and needs. When a smart refrigerator detects you're low on milk it can even add it to the shopping list stored on your Amazon Alexa device. Connection is key when it comes to expanding the smart home system.
Ease of use continues to improve, too. You don't need to be tech-savvy to set up many smart tech devices. If you have a smartphone, a Wi-Fi connection and an outlet, most people are set to connect a lot of devices—which makes the barrier to entry lower for smart home tech across the board.
Artificial Intelligence.
Thanks to voice assistants like Amazon Alexa and Siri, most people are familiar with at least some aspects of AI functionality. Artificial intelligence continues to improve, understanding commands better and responding in more relevant ways. AI in smart homes helps residents play music, update their to-do list, turn lights off and on and much more.
Automated Robots.
While we're still a long way from a full-featured, humanoid-like robot that can operate freely, automated robots already exist and are being used in a lot of homes today. Devices like the iRobot and Neato are designed to autonomously travel around your home and clean the floors.
Smart Thermostats.
Following smart speakers, smart thermostats have been one of the most widely adopted smart home tech devices. They're generally easy to install and can be completely customized to your preferred temperature, as well as your routines, making it easy to adjust the environment in your home from anywhere. For example, smart thermostat NEST can be programmed your home and cool the air inside as soon as you return from holidays.
Smart thermostats are also touted as eco-friendly because you can easily turn heating and cooling off and on when you're away from the home, and budget-friendly because using one can cut down your utilities bills.
Power Tracking or Energy Efficient Tech.
Your car tells you when it needs an oil change, so why doesn't your home tell you information like that? Think of an air conditioning unit that can send you alerts when the air filter needs to be changed. Or, better yet, think of an energy system that can tell you when you're going over your power budget for the month. US Company, Powerhouse Dynamics, has recently unveiled its Total Home Energy Management program which does just that, tracking a home's energy consumption, associated costs and carbon footprint by the minute, in order to allow homeowners to better manage their usage. It can even analyse appliances and equipment being used in the home and tell owners when they need to upgrade to more energy-efficient products. It won't be long before there are more than just a couple competitors in the market and power tracking systems become a modern home standard.
Health Tech.
In a trend that has definitely been accelerated by the pandemic, plenty of smart home tech has now started to either focus completely on, or at least emphasise, health benefits. While smart thermostats have been one of the most popular smart tech devices for a while, some are now integrating features like humidity sensors to help with air quality, and stand-alone humidity sensors are also growing in popularity.
Smart air purifiers and air conditioners are also on the rise to assist in elevating and maintaining air quality. Some smart doorbells are even integrating temperature-taking functionality so that people can screen their guests for one of the most basic Covid-19 indicators before allowing them inside.
In smart home tech that is less Covid-inspired, smart water filtration systems are helping with overall health. Far beyond your typical toilet, advanced smart toilets in places like are going so far as to use sensors to analyse waste and skin to provide insight into the user's health and alert them about any issues that may arise, with the hope that users can seek professional attention before a problem worsens. Of course, other smart features like automated deodorisers and flushing systems, or heated seats are also pretty useful. Especially that last one, because no one likes to sit down on a freezing cold loo seat.
At-Home Exercise.
A health-related trend that has also been stimulated further during the pandemic, because of the closing of gyms and fitness studios and the increase in time spent at home, tech-based at-home exercise is continuing to grow in 2022. Smart workout tech like the Mirror (which was acquired by Lululemon in June 2020), Samsung's Smart Trainer and the Ultrahuman app built to connect to a user's Apple Watch, have all attracted increased interest.
Home Office.
With the widespread pivot to working from home, smart home innovations, specifically for home offices, have garnered plenty of attention over the last two years and continue to evolve as companies extend office closures and even switch to hybrid or permanent work from home policies. Tech from noise-cancelling windows to drown out the neighbour mowing their lawn to AI filters to hide the messy living room when you jump on a video call with your boss are just the beginning of the potential for growth in this space.
High-Speed Connection.
One of the premises for smart homes of the future is high-speed internet connection via mesh Wi-Fi. Slow connections and dead zones that occur when you walk away from your router will be a problem of the past when mesh Wi-Fi connects your main router straight to the well. The whole house will have high-speed connection for the rest of the smart home devices you install.
High-Tech Security.
To ensure the safety of all of the smart home tech inside, smart home security systems are being developed to protect the outside. These devices will get more interconnected, allowing you to check on your home from anywhere and access the controls from afar (like opening the door for a delivery person or turning lights on if you see a suspicious person on the sidewalk).
Future homes are also expected to include closed and private network access to connect devices and allow communication between them. So, while you may still have to go purchase a router to get your devices up and running today, in future wireless devices will automatically be installed in newer homes, opening them up to a closed network.
Personal security systems will also be integrated with the private network. Facial recognition software will allow homeowners keyless entry into the home or network. A CCTV monitoring system will allow them to patch in remotely and check their home's status while away on vacation. You could also activate an emergency alert mode via a mobile device if something goes awry.
Where Homes Are Going.
The bottom line is that today's conveniences have ever more widespread appeal. What started out as a technology that once seemed kitschy has transformed the way we design our homes. With the plethora of smart home technology out there today, we can only expect homes to continue to adapt to the way we live today, in virtually any way possible.