So you want the perfect kitchen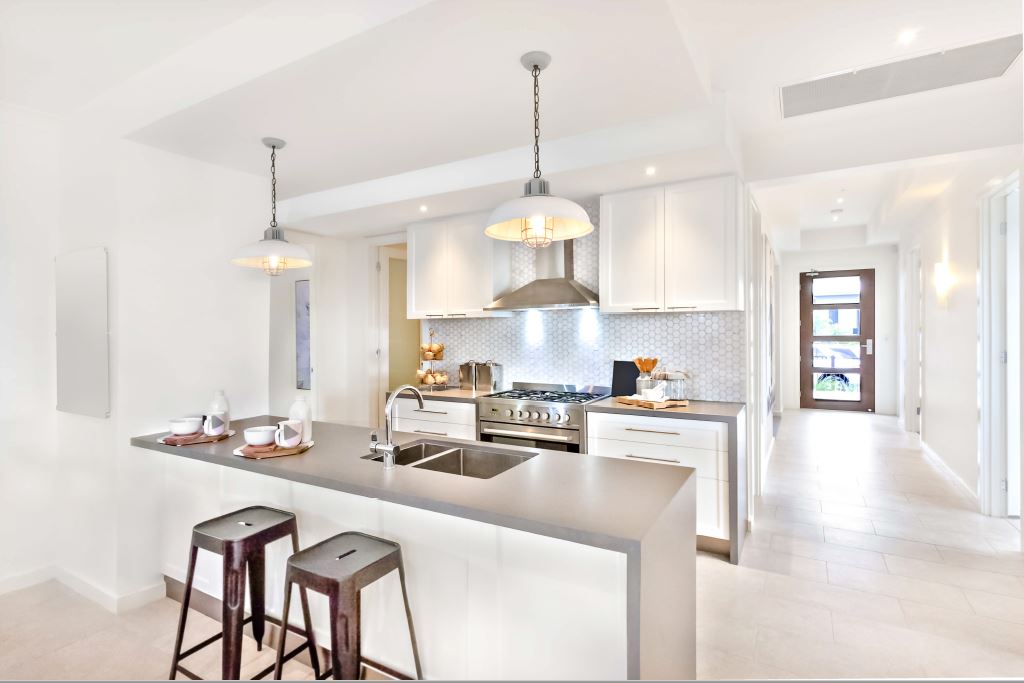 So you want the perfect kitchen
February 2020 in
Design Inspiration
Planning your new kitchen is exciting. From deciding on your colour palette to choosing appliances, it's easy to spend a lot of time on Instagram and Pinterest earmarking your design inspiration.
However, the myriad of options and decisions involved can sometimes make the whole experience a little daunting.
So…we've asked the experts at Dennis Family Corporation for their top tips to ensure you land yourself the kitchen that's perfect for you.
Kitchen Layout is Key!
The most crucial element to nail in the planning stages of any new kitchen is the layout. Get this wrong, and even the best-looking kitchen design won't make up for the missing functionality of a poor layout.
So how to get it right? It's the golden rule of kitchen layouts, but placing elements within your kitchen according to your workflow is a sure-fire way to end up with a layout you love. While the 'golden triangle' has been around for a long time (placing your fridge, cooktop and sink at each point of an invisible triangle within the kitchen), nowadays many homeowners are steering away from this configuration in favour of work zones.
So the best things is to do your homework upfront and nut out a layout on paper that works for you. Where do you want the cooktop? Can you watch the kids while you cook? Does that huge fridge fit in the corner? Do you want one oven or two? It's also worth considering things like the placement of windows and doors, ceiling heights, high-traffic areas, as well as making the most of natural light.
Make sure you leave plenty of room for appliances.
Some people like to put their appliances on show, while others lean towards more discrete integrated options. Whatever your preference, spending wisely on quality appliances will make even the smallest and most budget-conscious kitchens sparkle.
But not only do you need to know the size of your appliances to ensure they fit in your new layout, you'll also want to ensure that they don't impose upon other work areas. One of the biggest layout blunders is not accounting for appliances or cupboard doors when they're open – for example, how an open fridge might affect your ability to open a neighbouring cupboard.
Pre-selecting (and pre-measuring) your appliances before signing off on your layout with your builder will save a lot of headaches down the track.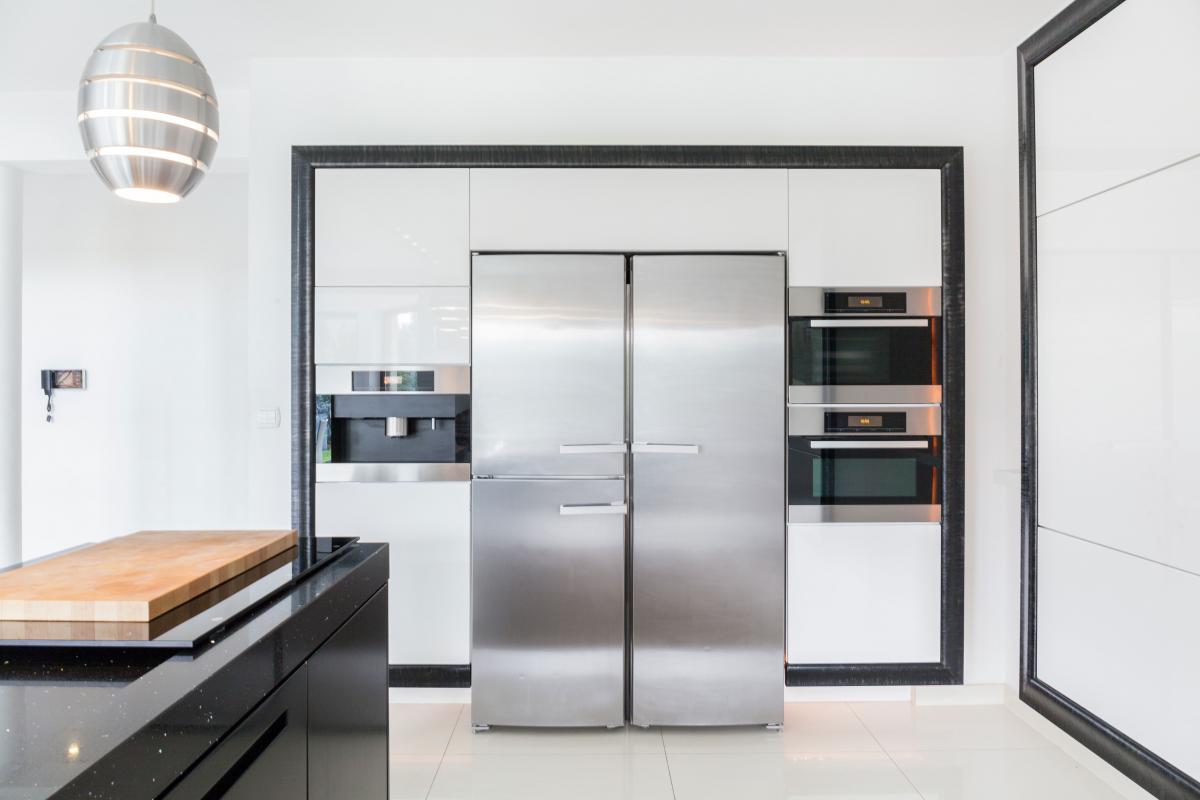 Work with the space you have.
It seems like a no-brainer, but the space you have available for your new kitchen will play a huge role in the elements you can or can't include.
Wishlist items like an island bench or butler's pantry are great inclusions – when there's the space. If these are must-haves for you, consider how they can absorb other elements to make the most of your space. For example, use your island bench to house both a breakfast bar as well as your sink and dishwasher.
When you don't have the space to execute everything on your wish list, consider alternatives that work in your space. If a butler's pantry is out, boost your walk-in pantry and include an appliance hutch, for example.
Consider your Kitchen's shape.
The shape of your kitchen layout will also determine your workflow. If your house design doesn't allow for an open-plan kitchen, a galley-style layout is great option for putting everything you need within easy reach. U-shape kitchens or integrated island bench with multiple access points also work well for busy families wanting to keep kids out from under the feet.
Define your Kitchen Style.
When you're considering finishes, look to the rest of the house for direction. If your décor and design style leans towards the classic, moulded doors and timber cabinetry might work really well. If you favour modern design and clean lines, flush cabinetry with no moulding might be better. Also consider if you want handles or a clean finger-pull look, as not all finishes may offer the look you want. And don't forget to make sure your flooring complements your other choices. To help narrow down your decision, it worth collecting as many images as you can to confirm the selection of finishes that work for your desired look.
Storage and Accessibility Matter.
Good storage space is always a worthwhile investment and can make even the smallest of kitchens a dream to cook in.
Kitchen storage is usually a combination of under-bench cabinets, overhead wall cabinets and tall cabinets, with either drawers or doors. One advantage of drawers over traditional cupboards is that are easy to open, and will save you getting down on your hands and knees to retrieve that pot lid stuck at the back of the cupboard. However, because they use slide-out runners rather than a set of door hinges, they are generally a more expensive option.
For difficult corners, there are some amazing pull-out and slide-out options, and tall slide-out pantries also work a treat for narrow spaces.
And don't forget to use the height of your room. Tall cabinets may be hard to get to on a daily basis, but they offer great storage for those occasionally used items like Nanna's tea set or Christmas platters!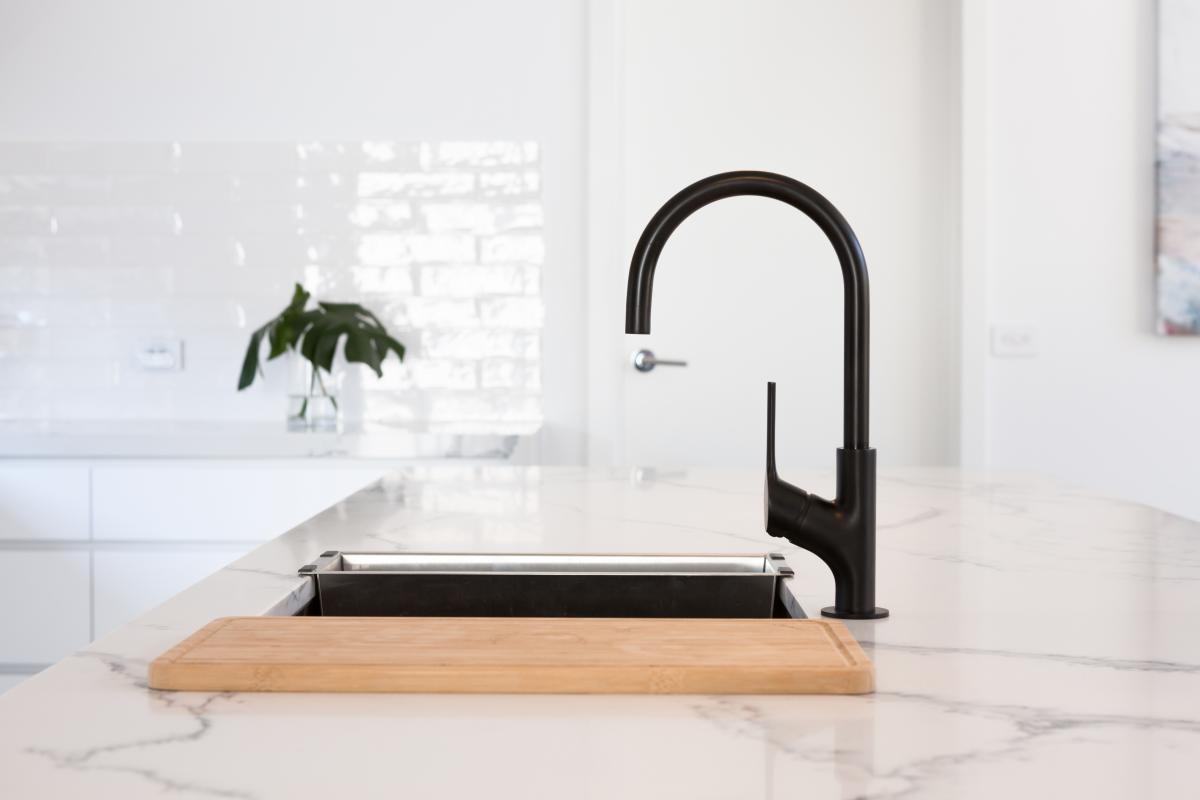 Benchtops.
Benchtops come in a range of looks, from price-conscious laminate to hardwearing man-made stone surfaces, and in a wide range of colours, textures and widths; from natural stones such as marble and granite, to synthetic surfaces that can offer the look of no joins. Marble or granite benchtops are beautiful and durable, but laminate can be a cost-effective alternative. So think which one works best for your needs, your overall design and your budget.
Cooktops v Ovens.
Cooktops come in a variety of sizes and finishes, including glass, enamel and stainless steel, and there's also the choice of electric, gas or induction. As a rule of thumb it's worth installing the widest cooktop you can, as most people tend to use them much more ovens. That said, there are also plenty of oven designs to choose from and the technology is becoming more advanced all the time. If you want an easy-to-clean option, a pyrolytic oven cleans itself. Or try a steam oven, which can cook almost everything quickly and healthily.
It's worth investing in a good sink.
Last but not least, invest in a good sink. They can come in many forms and differing qualities. So be careful when buying that cheap sink-and-tap deal, as the stainless steel will scratch and tarnish quickly. For many people, the  double-bowl undermount is the sink of choice, providing two deep bowls with a clean, under-benchtop look. The downside is they have no drain board, but some come with drop-in cutting boards and separate drain boards.
So what are you waiting for? Start planning your MasterChef worthy kitchen today!